Welcome to a new weekly feature here at Madcap Frenzy.
I hope to show off some of my favorite projects, images, quotes, recipes, etc. that I have come across on
Pinterest
.
Hello, my name is Morgaine, and I am a Pinterest addict. (At least according to my husband and my friends).
There is just something about Pinterest that is so me. I think when I really started the Pinterest addiction was when we first put our bid on our house- I immediately started dreaming up the decor of each room and ideas I had for the house. Now it took us 9 months to get our house from that first bid, but Pinterest has helped me in planning the rooms, one-by-one (I had 9 months to plan them, after all).
With all that being said, I happily encourage ya'll to pin up a storm across my sites and blogs.
So, without further ado, welcome to the
very first Pinspiration Monday!
1. Lilikoi Joy: Upcycled Door Mirror
Source: http://www.lilikoijoy.com/2013/02/upcycle-door-mirror-from-drab-to-fab.html
So, I totally have a door mirror that was left by the previous owners of our house, that has been sitting in our master bathroom just WAITING to have something like this done to it. Making it silver would match the room too! Such a cool idea!
2. Just a Taste: Homemade Samoas (Caramel DeLites) Girl Scout Cookies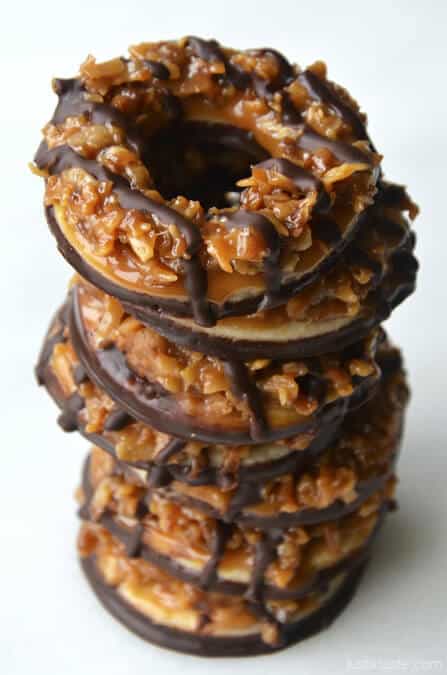 Source: http://www.justataste.com/2013/02/homemade-samoas-girl-scout-cookies-recipe/
So, I am what you call a "forever girl scout." I was a girl scout from 1st grade straight through graduation of high school. I got my Girl Scout silver and gold awards, worked at girl scout camp for 2 years and sold more boxes of cookies than I could ever remember to count. So finding a recipe that you can make your own girl scout cookies, and my favorite ones at that?!-OMG! I really want to try to make these, but I'm afraid I'm going to become addicted and won't be able to stop!
3. East Coast Creative: How to Spray Paint a Chandelier
Source: http://www.realhousewivesofbuckscounty.com/2012/04/how-to-spray-paint-chandelier.html
I know this post they made isn't really a "new one" however it is a very helpful one. I just searched within Pinterest for 'upcycled chandeliers' and this is one of the pins that came up and was just want I needed. We just acquired a simple chandelier for $4 (yes you read that right) from an online facebook yard sale site and my plan is to paint it for our hallway (originally I wanted it for our dining room, but then my hubs reminded me of our ever ambitious and someday we'll get around to it plan of making a wine bottle lighting fixture for the dining room.) Anyways, I thought this was a great pin- as it helps me out in my future DIY!
4. Grey Likes Nesting: DIY Marquee Letters
Source: http://www.greylikesnesting.com/diy-inspiration/diy-marquee-letters/
So I am a theater-geek, sorta. I do a lot of community theater, and so does my husband (and a good portion of our friends). So I have this vision for our hallway leading up to our upstairs- I want a wall of theater memorabilia- frames of show programs/ticket stubs, show pictures, etc. When I saw these Marquee letters, I immediately thought that someday, hopefully, I could create something like this for that hallway. They are so very Theater after all.
5. Royal Design Studio: How to Stencil a drop-shadow effect
Source: http://www.royaldesignstudio.com/blogs/how-to-stencil/7143120-stencil-how-to-create-a-drop-shadow-effect-for-a-crowning-touch
This particular pin also caught my eye, as I love the shadows, the shine and the bling to the wall. I was thinking something similar to this, but with damask print for our downstairs spare bathroom. I got totally inspired by this tutorial, that while stopping at Home Depot to pick up something simple, I picked up my Damask stencil and I am prepped to stencil and bling away soon!
So that's my top 5 pinspirations for today. Feel free to pin up these babies (from their original sources please people), since I sure did.
Also, please follow me on Pinterest
@madcapfrenzy
or even just follow a few boards (I know I have boat-loads that most people could care less about.) I do hope you at least follow "
my projects
" which are all the projects I personally do here on the blog-o. Until I get better versed on making that nifty 'hover over your picture to pin' deal, you can pin straight from "my projects" or from the individual posts within this blog.
Thanks all and I hope ya'll stop by again. I do love my followers. Feel free to follow me in any or all of the social media forms, which you can access from the buttons on the right (and follow me with blogger).
Thanks for stopping by and I hope these inspired you!
-M